Varca Palms Beach Resort
Varca , GOA, Code No- AT-GA 95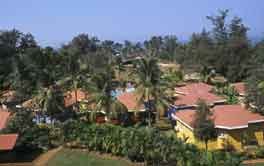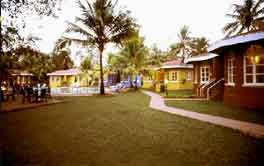 Varca Palms Beach Resort, Goa is located on one of the most magnificent beaches in Goa with 27 kilometers of golden sand, just 45 minutes from the Dabolim airport and within reach of every major tourist attraction, Varca palms resort Located on a sprawling 14-acre property off the splendid Varca beach, the Resorte is a lush tropical paradise that promises you a picture-perfect vacation.
Stretches of silver sand washed by a rush of blue waters, the sky mirroring the sea below, swaying palms, churches and monuments... a lethargic getaway unharried by the passage of time. The perfect place to spend time with the people you love
Accommodation and Facility

The hotel is equipped with 56 luxurious rooms with pleasing decor. All amenities like air conditioning, room service, laundry service and medical help are taken care of. So all you have to do is sit back and relax.

Superior Rooms Superior rooms are in the main block of the hotel with the access to the main lobby and overlook the resort, gardens and the distant view of the sea.

Garden Villas Typical Portuguese Villas near the gardens with walkways and greenery all around.

Pool Villas Portuguese Villas with the splendid view of the pool.

Pool Suites Pool Villas with one bedroom and a living room and an option of two bedrooms with one living room.


Air conditioned double rooms and villas with satellite TV, channel music and telephone, Swimming pool with a separate pool for toddlers, Live entertainment, Indoor board games and table tennis, Tennis court and beach volleyball, Children's park and outdoor games, Room service, Safe deposit lockers, Foreign currency exchange, Baby sitters, Laundry service, Shopping Arcade, Doctor on call, Bicycle and vehicle rentals.