Ondas Do Mar
Calangute, Bardez , Code No- AT-GA 88.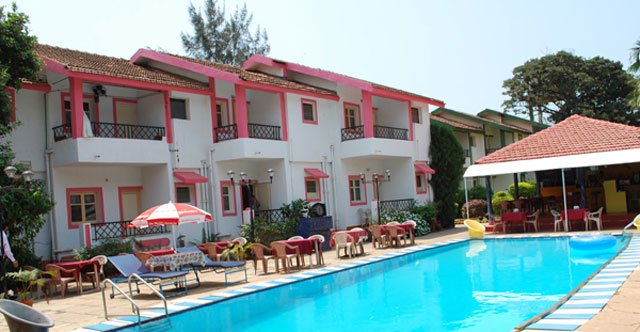 Ondas Do Mar which in Portuguese means 'Waves of the Sea' is a delightful 'Beach Resort in close proximity to Calangute Beach, in exotic Goa, where you can hear the lapping of waves.

"Ondas Do Mar" is set in two blocks, with modest facilities and warm hospitality which is a typical essence of Goa and India as a whole.
Ondas Do Mar Situated "bang" on the Calangute beach front, on a quite stretch, this mini resort offers you well appointed duplex and double bedroom apartments (AC/ Non AC), with quaint little balconies overlooking the pool in the central courtyard. Having little colourful gardens surrounding the blocks, the resort has an informal and friendly ambience. An outdoor bar and a barbeque setup makes it an ideal place to relax by the pool side, watch cultural shows and various folk dances of the land, with a live band in attendance.
It has 30 well appointed air conditioned, and comfortable rooms aesthetically designed with vibrant colours and large open spaces, which gives one a feeling of living in a Portuguese villa. It has two fresh water swimming pools and a multi - cuisine restaurant 'Chef-e-tte' serving a choice of delectable Goan, Indian, Chinese and Continental Cuisines. Experience our pool side tandoor which opens every evening with a lip smacking menu. We pamper you with our Goan Hospitality , which is characteristic of our resort. What is more unique is it has a close proximity to the sea with the beach within stone throwing distance. The sound of the waves, the whisper of the swaying palms and the soft sand makes Ondas Do Mar a Resort with the very essence of Goan life. It would make you "Just want to Come back to Luxury & Celebrations"
"See you at Ondas do Mar Soon"
Enjoy the sumptuous food served at " Sand- Dunes" the outdoor / indoor restaurant which gives you the best by the pool side and in it's cozy little indoor setting. We pamper you with the " tastiest" besides giving hospitable service which is characteristic of this resort. What is more unique is it's very close proximity to the sea, with the beach within a stones throw. The booming of waves and whisper of swaying palms and the soft sandy soil makes Ondas do Mar, a resort which has the very essence of Goan life. It's sea side environment compels you to come back again.... and again.... and again!!!.
Air & Bus Tickets. Rentals (Bikes, Ac/Non A/c Cars & Buses). Self Driven Cars. Jeep Safaris. Boat Trips & Water Sports. Doctor on Call. Tours & Travel Booking. Safety Lockers. Taxi pick-up/drop/from airport/train station can be arranged at the prevalent rates. Laundry Service. Security . Bar & Restaurant. Room Service. Fresh linen on request. Hot & Cold water. Assistance for any other service will be provided on request. Dolphin trips. Picnic trips to butterfly island. Trips to Anjuna Flea Market / Spice plantation /Doodhsagar Waterfall etc. Site seeing trips. Cable TV. Ayurveda / Yoga & massages organised.