Sukhsagar Beach Resort




Colva Beach, Goa.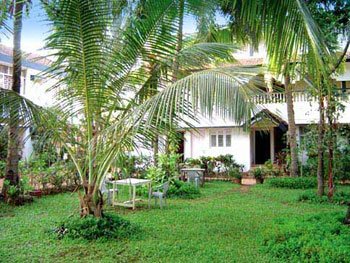 Magical memories to cherish forever. At truly down to earth price.Holiday spirit takes over the moment you step at Sukhsagar Beach Resort. Right in the midst of the lively beachside buzz, being approximately 100 meters from Colva Beach it is the perfect holiday resort for you to relax and unwind.

Sukhsagar Beach Resort has all the basic comforts you need. Spacious clean rooms, your morning breakfast, few drinks to relax & reminiscence at sundown and friendly, unobtrusive staff. Sight seeing arrangements too, can be taken care of.We believe that happy memories need not necessarily depend on the money you spend. For your accommodation at Sukhsagar, you don't pay exorbitantly.
Surprised?.... Restricting ourselves to providing you with basic amenities we keep our operational costs low & in turn pass on the cost benefit to you.
The result is that you have the most reasonably priced resort at one of the most sought after beaches in Goa . It is little wonder that our clients, local & foreign, never think of any place else when they return for a second helping of the hospitable Goan sun.

In sum, all the makings of an unforgettable vacation at a truly forgettable price.
Accommodation
At Sukhsagar Beach Resort we believe in providing the best facilities in the most reasonably priced flexible packages. We provide different types of rooms for the people with diverse requirements. Non air-conditioned rooms for shoestring budgets. Air conditioned rooms for those who want that extra bit of comfort.
Then there are unique twin rooms for the large Indian families who prefer to stay together. All the rooms are self contained.Breakfast can be ordered in the rooms and we have bar facility also.
Ac Rooms: 5, Non Ac Rooms : 11, Non Ac Twin Rooms : 3, Non Ac Hall / Dormitory : 1
How to get there
Goa is well connected to rest of India and also World by Air, Rail, Road and Sea. Madgaon is one of the main stations for the rail and Dabolim airport is just about 22kms from Colva by road.
You have enough public transport buses and share cabs from Madgaon coming to Colva throughout the day. You can also hire tourist taxis and unique goan motorbike taxis. Colva being a central place in South-Goa, all the surrounding places are easily accessible.
22 kms from Dabolim (Goa) Airport, 38 kms from PANJIM Capital of Goa, 7 kms from Madgaon Railway Station (Konkan Railway), 6 kms from madgaon, Inter-State Bus Terminus, 6 kms from down town area.
Additional Persons (With/without mattress) Season Rs.120/-, Off Season Rs.80/-
No extra charge for 2 children below 8 years when sharing the room with parents, ServiceTax Extra, Luxury Tax as applicable, Tariff subject to change without notice.